What makes a great TV for watching sport?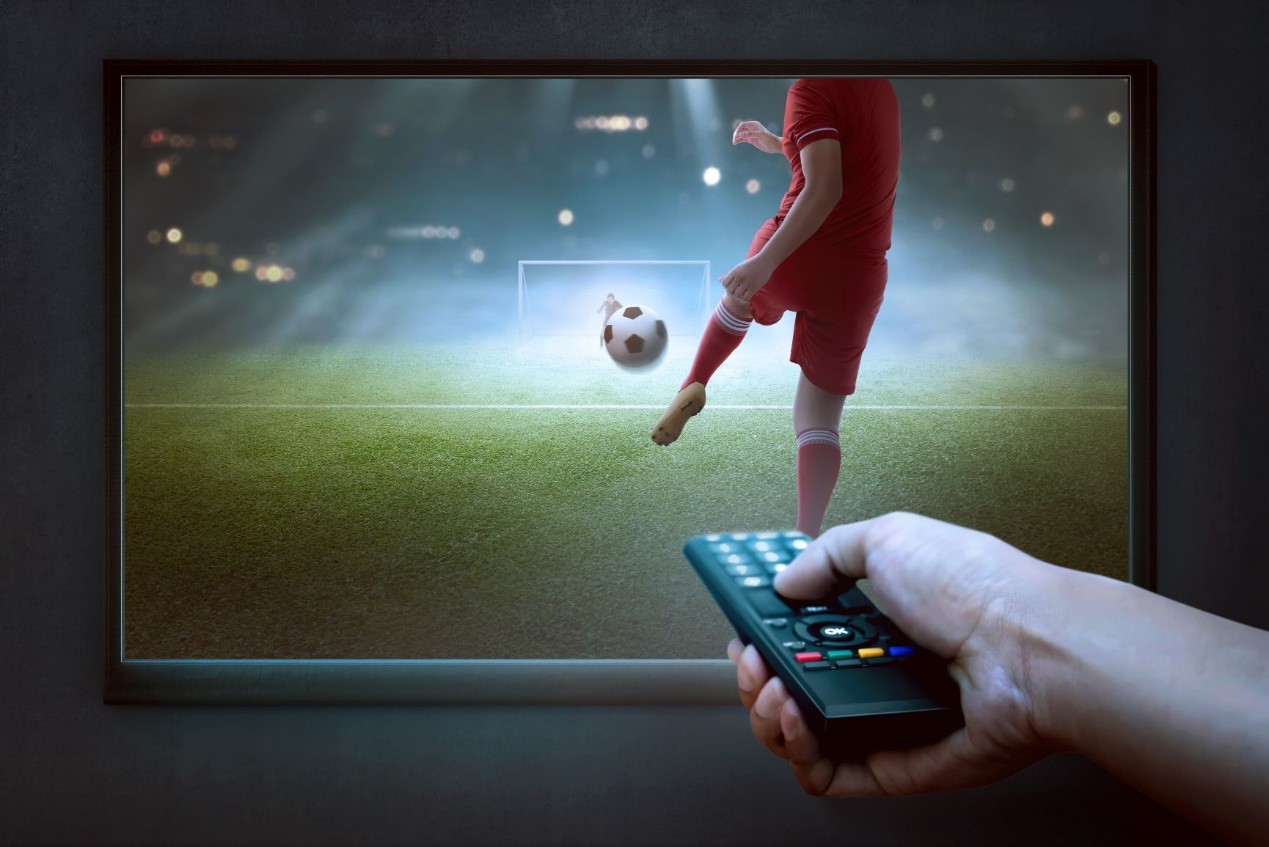 2020 hit hard for sports fans with coronavirus putting a stop to most of the action, but this year the sporting calendar is back in play – and it's bigger and better than ever!
EUROs, the Olympics, a Rugby League World Cup, Wimbledon, British Formula 1 Grand Prix, golf…pretty sure you can find a bit of cycling in there too…whatever gets your pulse racing you'll want to be sure you don't miss a second of it. With fast-moving action, scores and times to keep a check on, you need a TV that can keep pace and stay focused – the only blur should be the spin on Lewis Hamilton's back wheels.
With crowds still restricted, limitations on travel and many of us just happy to take front row seats in the comfort of our own home, the quality of your TV is key to a great viewing experience.
Not sure your TV is match fit? Then now is the time to upgrade. But there are a few things to think about before you do.
Considerations for a 'sports' TV
A good TV isn't always a good TV for watching sport.
Thanks to technological advances we've come to expect high-quality definition and great colour pretty much as standard, but when it comes to watching sport, you need even more than that…
Things to think about:
Screen size – go large! When it comes to spectating sport, bigger is always better. Not only does it mean more of you can crowd around the screen, but a larger screen ensures a wider viewing angle capturing more detail. Ideally, aim for 55" or above for a thrilling 'big screen' effect.
Room size – before you get carried away with the size of your screen though, don't forget to consider where it's going and how far away you'll be sitting. The last thing you want is a TV that won't fit in your lounge or that you're forced to sit too close to.
Recommended viewing distances are:
| | |
| --- | --- |
| Viewing distance | Screen size |
| Less than 1.5m | Up to 32" |
| 1.5m- 2m | Up to 39" |
| 2m-2.5m | Up to 45" |
| 2.5m-3m | Up to 55" |
| Over 3m | Up to 56" |
Processing rates – first of all, it's important to understand what this means. Processing rates - otherwise known as the 'refresh rate' - is how fast images flash up on the screen. Measured in hertz (Hz), the faster this rate is the smoother and crisper your image will be. So, if you're searching for a TV to make you feel as though you're on the touchline at Wembley, look for high processing rates.
As a guide:
50Hz – good for everyday viewing
100Hz – manages fast action well
200Hz – ideal for sports
Sound – powerful speakers are a must. Hear the roar of the crowd, the fast-paced commentary and every nail-biting sound as if you're right there in the thick of it. Whilst most modern TVs have pretty decent speakers, they can lack the power punch needed to create a true stadium experience. Fortunate then, that you can easily add a sound bar to your home tech.

A soundbar is a single bar containing several speakers and a woofer. Easily hooked up to your TV it boosts its sound capabilities, taking your 'home crowd' experience to the next level.
Snacks – OK, so this isn't really something you need to think about when buying a TV to watch sport – but it definitely impacts your viewing experience! Watching edge of the seat action, you're going to need a little sustenance. So, before you get too immersed, make sure someone's lined up the snacks. Surely Strawberries and Pimm's are a must for Wimbledon?
Buy a great sports TV today with Martin Dawes
Ready to bring those iconic sporting moments to life? Take a look at the great range of televisions we have available to rent or buy here at Martin Dawes – the electrical equipment specialists.
With many screens available for next day delivery and 4K, 8K, QLED and OLED televisions to choose from, your only concern will be deciding which one to go for before the start of the next game.
Need a hand? If you have any further questions about buying a TV for watching sport, then please don't hesitate to get in touch. Our friendly, helpful team are always on hand and happy to help.